Moving on from the black thermochromic ink I wanted to test some of the other colours available. I decided to try 2 colours as they fit with the colours from my palette. These were a purple that changed the neon pink with heat and a yellow that turns neon yellow with heat. I tested them on a few colours and found that they only worked on the light colours, the dark fabrics absorbed the colours so they couldn't be seen. I'm happy with how they look on a white background so will be using them like this however if I wanted to use it on a dark fabric I could try discharging the fabric first and printing over the top of that.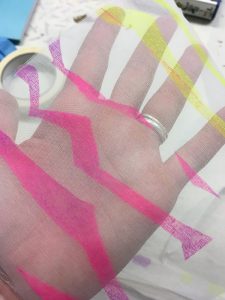 The purple changed colour really well and there is a distinct difference in the change but the yellow is much more subtle and difficult to see.  The print was tested on a few different white or light fabrics and worked on them all but with some variation on how solid the lines were. The print did not cover the organza as well as the cotton for example due to the structure of the fabric so a solid base will be required for the best appearance.
Going forward I will be using the purple within my samples as it works much better than the yellow. I will perhaps test the yellow again on an idea as I still have it to experiment with but with the change not working well I wouldn't want to rely on it as the feature of a design.