MA Research Smart Textiles
An exploration into how traditional embroidery techniques can be merged with modern technology and innovated for the future of fashion.
Kayleigh gained her MA in Textile Design Innovation from Nottingham Trent University where she experimented with a range of traditional textile techniques and how they can be used with more contemporary textile applications. Within this research she explored passive smart textiles and how they could be used within a commercial context. Experimenting with thermochromic inks, photochromic yarns and phosphorescent pigments she was able to explore how they could be used across a range of ideas and, how they worked with different materials. She also investigated e-textiles exploring the potential to use them alongside traditional embellishment working with standard circuits and sensors.
E-Textiles
Working with basic circuits and coloured LED lights Kayleigh explored combining these with traditional embellishment techniques. Hand cut sequins and bugle beads were layered on top of the circuits to show how the lights would travel through different materials.
Moving on from basic circuits Kayleigh began working with sensors to create samples that responded to natural elements specifically light. Plastic tubing was added to investigate how the light would travel along them and reflect off the surface.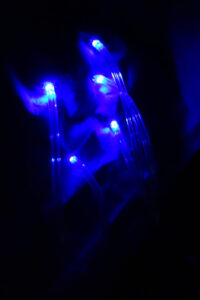 Thermochromic Inks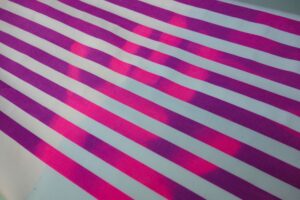 Exploring thermochromic inks with manual screen printing Kayleigh tested a variety of colours on different surfaces to explore which combinations worked best. Working within the project colour palette she was able to experiment with creating commercial designs that incorporated the inks. The result were samples which were produced using traditional textile techniques where the print would change depending on the temperature of the environment or wearer if used on a fashion garment.
Photochromic Yarns
To continue exploring how smart textiles could be used alongside commerical design ideas Kayleigh experimented with using photochromic yarns and threads in her design samples. These threads were used in place of traditional machine embroidery threads using digital embroidery to create the designs. Samples in normal daylight appear to be standard designs but when taken in a dark environment they would respond to the lack of light creating a new appearance to the design.
3D Printing
Exploring how 3D printing could be used to create embellishments for fashion Kayleigh produced a range of exploratory ideas and shapes. To push this research further she experimented with phosphorescent pigments in the resin to create embellishments that absorbed light and glowed in the dark. This was a continuation of investigating how new technologies could be used in a more commercial way for fashion and specifically how phosphorescent pigments could be used in a less novel way.
Iridescent Pigments
In addition to exploring passive smart textiles Kayleigh also experimented with iridescent pigments. These pigments are more regularly used in product design and car paint to give the effect of multiple colours within a surface. Kayleigh tested these pigments with screen printing to use in a fashion context to create material surfaces that changed colour with movement.