When I was in London I visited and bought some tubular crin, a material commonly used in millinery work. I had seen an image in instagram from lesage where it had been used within in embroidery and decided that I wanted to experiment with it in my work. It structures means you can easily create 3D surfaces which come out from the base fabric and with its shape it could easily have beads or threads run through it. I started out draping it over the mannequin looking at how many colours to use and the different directions it could go in. Mixing the colours and wrapping them around one another gives more depth to the surface and the large scale makes it appear to be flowing over the body.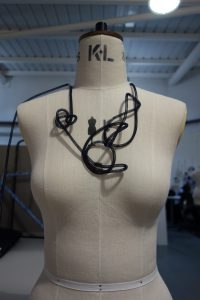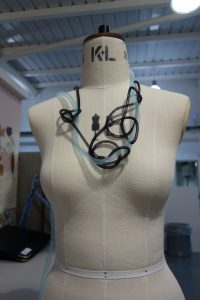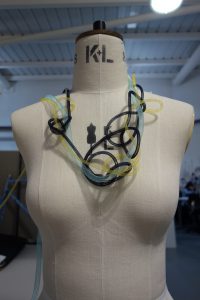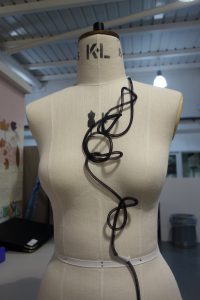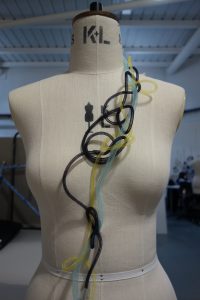 From this I have started to stitch down some smaller ideas incorporating beads within it. Using on the wider blue and smaller yellow tubular crins I filled the blue and wrapped the yellow around it attaching both ends with a cluster of beads. Overall the sample is effective in creating a 3D surface to the fabric and the colours work well together. I need to create more on a larger scale to show how it could be used in a design.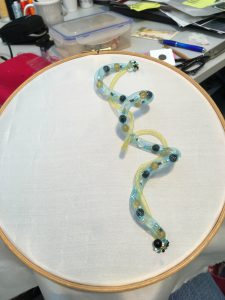 I have also spent my time recently learning how to tambour. This traditional couture technique was something I really wanted to learn whilst on my MA and progress my skills in. As it is a staple technique used in couture embroidery I felt it was important to my project to have it within my work. As a first attempt I was really pleased, the stitches are mostly even in length and once I got going with it it was actually quicker to stitch than I thought it would be. I tried a simple chain stitch, attached seed beads and then bugle beads. The technique obviously works best with an open women fabric such as tulle which is something I will need to use for this. To progress the technique I will be doing work with the glowy and UV solar threads to give a modern twist to the idea.