Finally I have developed a few ideas to do on the digital embroidery machine, both fairly simple but with a few twists. The first is a large fringing idea working with various threads. As the machine can do the same design twice at the same time I took the opportunity to try it with multiple thread types. The first was created using glowy threads, these adsorb light and glow in the dark on organza. The second is a mix of matte, 40 and 30 thick embroidery thread and I did try a UV thread I had left over from previous work on cotton organdie. The first design worked really well, although there was a bit of pulling in the stitching it wasn't a problem as I would be cutting it underneath after. The second however had a few issues, the UV thread didn't take well on the fabric and started to create holes so it was replaced with the 30 thickness thread. Also a stabiliser wasn't used so when the top stitch was applied it missed some of the threads so we had to go back into the design and make it larger to re stitch it.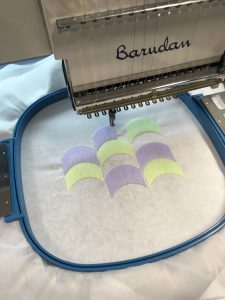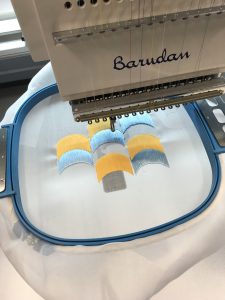 The overall results work well for both designs however to take forward I would use the organza and not the cotton organdie to not risk damaging the fabric. Also scale needs to be looked at to see if this is the best scale to work with.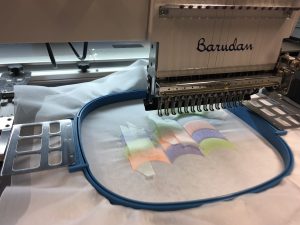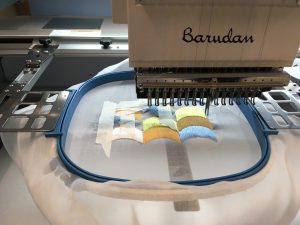 The second design I stitched was sections of a design from my screen. Filled leaves were stitched with a titami pattern to create a flat layered surface and was stitched onto cotton and velvet. The velvet sample I intend to devore onto to create further layers, also the matte thread used on this is a nice contrast to the shiny velvet surface. The cotton sample did have some tension issues and the fabric has puckered. A shiny thread was used to contrast the matte surface and I intend to print over this with the thermochromic ink.