This week I attended a full day embroidery workshop where I was inducted on the specialist industrial embroidery machinery. This was followed by two full days of self-directed study so I could familiarise myself with some of the machinery I hadn't used in a while. Having an Irish embroidery machine at home means I'm very familiar with that particular machine however, it has been some time since I have used a Conely and tufter. In the workshop I was introduced to the two tufters and two Conely machines that produce chain stitch and moss stitch. Two other machines we were inducted on that I haven't had much experience on before were a ribbon Conely machine and a three chord Conely machine. I was also shown how to switch between a chain stitch and moss stitch on the Conely machines so that I wouldn't have to wait for a particular one to become available.
When I have previously used Conely machines I have struggled with the control of the stitch and fabric but this time I found it much easier. It is previously been a machine that I've shied away from using in my work because of this however I feel much more confident now that I could use it in a design. I did have a bit of trouble with the three chord Conely machine to begin with however having tested if with different decorative yarns and more practice I seem to have picked up the knack. The decorative work that this machine produces I think would tie in to my work nicely so it was great to finally start to feel better with it.
Having the two days of self-directed study days meant I could push some of the techniques and explore different thread types on the machines for example the tufter. It also gave me an opportunity to explore different base fabrics and how they would take the threads and, whether in fact I could even use them on a particular machine. Being able to spend so much time solidly on these machines has also meant I've been able to produce a good range of technical pieces for my technical file. Below are a few of my preferred technical sample pieces that I've produced and ideas I hope to push forward in my project.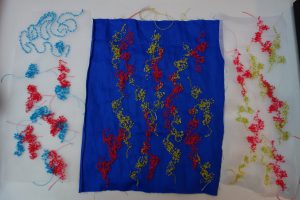 Moss Stitch on cotton and organza.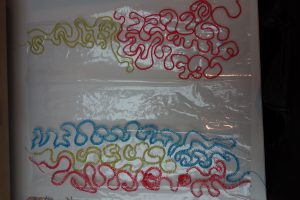 Chain and Moss stitch onto a Plastic fabric. Interestingly the stitches came out longer on this material than on the others so some experimentation with needle height will be required.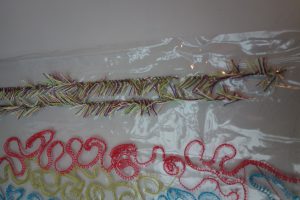 Moss stitch also didn't quite work on the plastic but i have been advised to try using a stabilizer to help keep the threads in.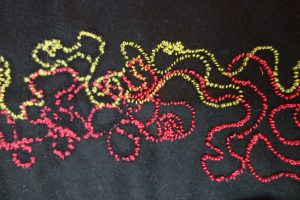 Moss stitch on wool that was then 'distressed' using the embellisher. Some of the stitches were lost however the general lines stayed but simply became blurry. This sort of distortion could work well in the project and is something i intend to test further on different materials.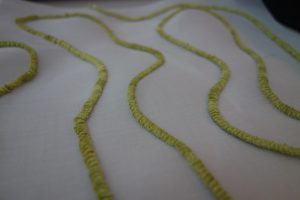 3 cord Cornely with a decorative wool yarn on top. The effect replicates some of the light movement images I have taken where the white colour almost appears 3D in the image. Again this is a technique i intend to pursue and use in my work and, continue testing different decorative threads.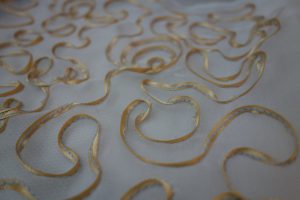 Ribbon Cornely work using a gold ribbon and blue decorative thread. When working around bends the thread stitches the edge of the ribbon giving a quilling effect and almost distorting the fabric slightly.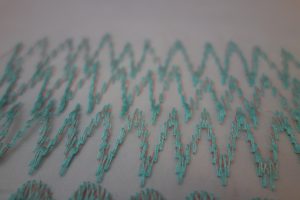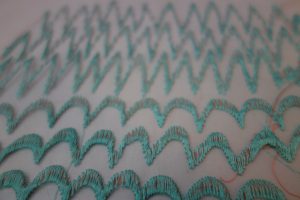 Irish machine embroidery using a different coloured thread on the bottom to the top and spacing the stitching to reveal the colour. I liked the effect this created and almost looked like a shadow.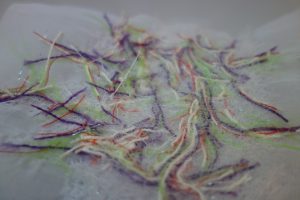 Trapping threads in between layers of transparent fabric in the embellisher and attached other threads on the top to create layers of colour.
On a side note from having to use the different machines I was also able to find my new favourite Irish in the studio which happens to be machine number one.