As a part of my MA I wanted to enter the Hand and Lock competition and this years theme was celebration. I decided to enter both the hand and digital embroidery categories as being a student the digital category was an option. I've done a good range of hand and digital work so used designs I already had and, combined them together to make garment ideas. These were the designs I entered for each category:
Hand embroidery Fashion Category
Wilcom Digital Embroidery Fashion Category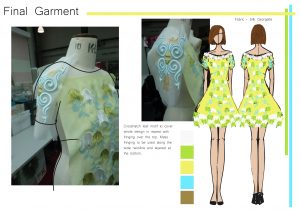 I entered the fashion categories for each as I wanted to try using my designs in a garment which is something I hadn't done before. Of the 2 i felt that the hand embroidery entry was the stronger with it having a range of traditional and modern techniques. I described my work fitting with the theme as a celebration of tradition and technology and how they can work together whether through technique or motifs. I have to wait until 21st July to find out if either of them have been selected but hopefully one will and I can get the chance to create a garment. This was something I was hoping to achieve on my MA but due to time constraints I had to drop so this would give me to chance to do that. If neither are picked its a good experience to think about placement and start to look at my fashion illustration skills which do need improving.