Looking at some of the work I have been producing there are some interesting colour combinations coming through. I explored how each of the colours in my palettes could work together on paper to give me ideas taking forward to sampling and these are some of the most successful combinations.

Whilst compiling fabrics in the colours from my first palette I took a photo of some of them together to see how they were working. Although some of these never made it through to final samples this image works well to show how the colours work together and give a cool, calming feel to the collection.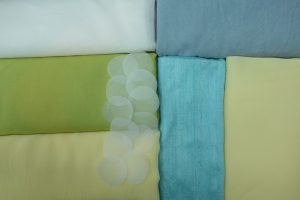 The orange and bright blue were 2 colours I was keen to see used together and the have proved to be a successful pairing. I have tested both as the base fabric and the surface decoration and they both work equally well. The foil is slightly brighter than the neoprene but I was restricted to the colours available at the time and they are very similar. The surface colour on both stands out well and draws your eye onto the fabric.
Another combination that have proven to work well is the purple with the bright blue. The surface embroidery stands out really well against the purple background and is a good colour to show the details in the stitch work.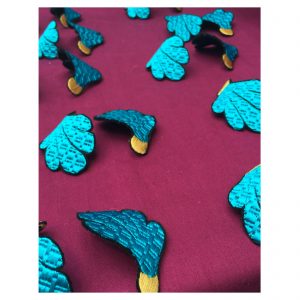 The more traditional colour combinations are also working well in the collections however its the more unusual ones that have proved to be very effective.