Having tested making the 3D leaves with a mould it didn't work and only produced half a leaf. From this it was decided that they would be 3D printed with the glow in the dark resin. After printing them I struggled to find a sample they could be used on and played around with placement ideas on a few ideas on their own. I then decided to try them with a sample that I was looking at adding to and they worked really well. The sample was a printed cotton idea I had developed that worked well as a commercial print but lacked innovation.
The leaves work well in the design adding depth to it which fits in with the aesthetic of this collection. The layers of shapes allow all the patterns to be seen together without clashing or being distracting to one another.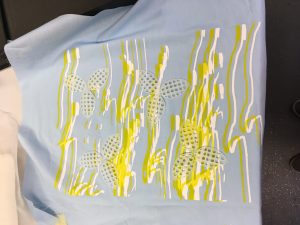 I have a few ideas for my digital prints and this had made me realise that instead of trying to come up with new designs for all of them I should try adding to any designs which feel incomplete.